SERVE 6.8 Coronavirus Crisis Response
SERVE 6.8 is no longer providing food and hygiene products at the Resource Center. All distribution is being done by our partner organizations. Please choose your nearest community below to find the locations and hours of our distribution centers.  
SERVE 6.8 remains dedicated to continuing to meet people's financial and spiritual needs. We are here to help you find connection, prayer, financial resources, crisis navigation and more. If you need help, please click the button below.
Distribution Locations
SERVE 6.8 is providing food, supplies, and financial/crisis care through its community church partners in Fort Collins, Loveland, Windsor, Wellington, and Greeley. Select your community below the graphic for details.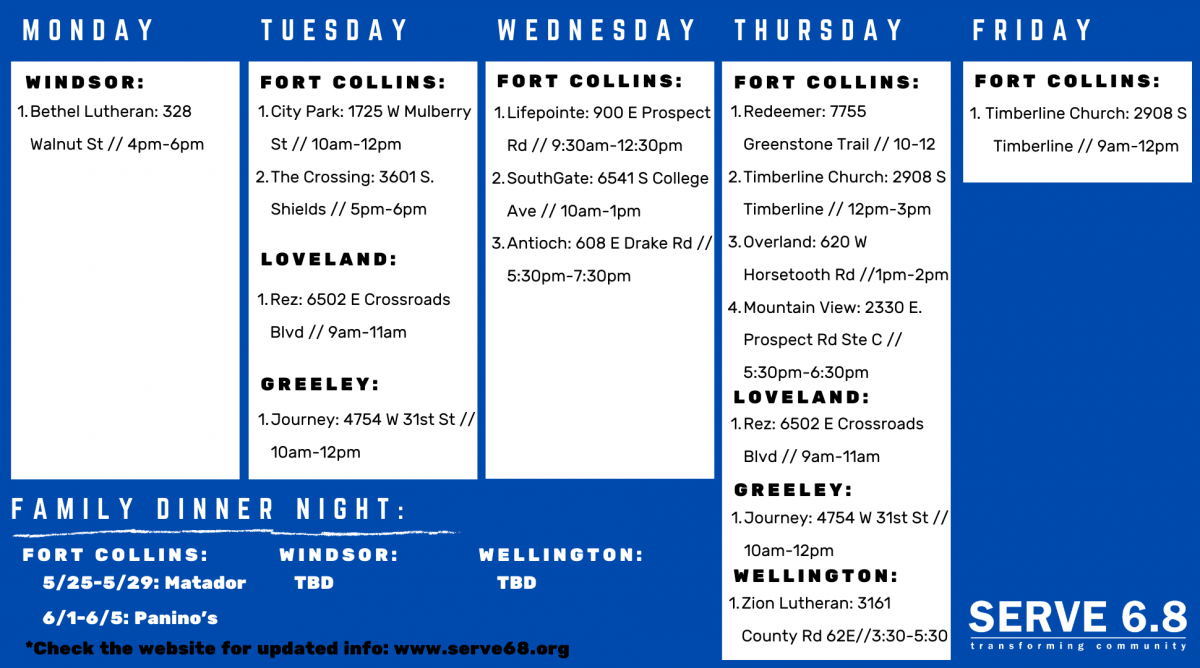 Give Help
Are you able to help pick up items and deliver them to others or pack supplies bags? Do you have items you'd like to donate? Click the button below.
Note: If you are sick or have traveled in the past two weeks, you will be unable to serve at the Resource Center.
Donations
We are accepting in-kind donations for the items below. There are three ways you can donate:
Order online and have them shipped to SERVE 6.8, 1239 E. Drake Rd. Ft Collins, CO 80525
Drop them off at one of our partner churches during their distribution hours. Select your community from the buttons above and find your closest church.
Donate to SERVE 6.8 online and we will purchase the items in greatest need.
Thank you!
Canned Goods
Canned veggies
Canned fruit
Canned tuna
Beans
Soup
Chili
Ready-to eat meals
Meat
Chicken
Beef
Dairy
Milk (boxed or fresh)
Yogurt
Dry Goods
Pasta
Mac n Cheese
Chef Boyardee
Rice-a-Roni
Cereal
Rice
Fresh Fruit
Apples
Oranges
Grapes
Snacks
Trail mix
Protein bars
Liquid protein drinks
Ensure
Chips
Dried fruit
Nuts
Popcorn
Goldfish
Crackers
Fruit snacks
Applesauce
Veggie straws
Peanut Butter
Hygiene
Toilet paper
Paper towels
Cleaning products
Shampoo/conditioner
Dishwashing soap
Laundry detergent
Clorox wipes
Lotion
Toothpaste